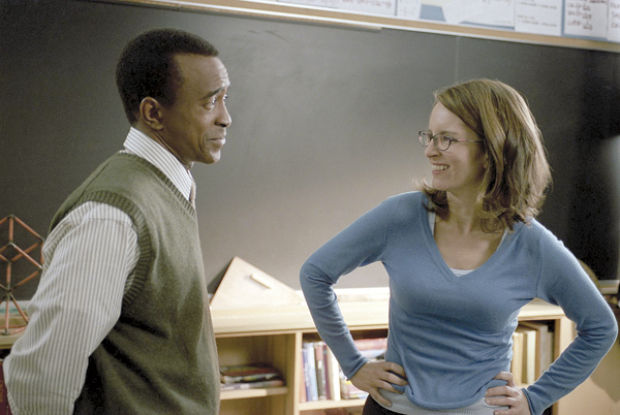 "Oooohhh … it's a lady!" Or, hang onto your Courvoisier, the love doctor will see us now.
Four times, in fact: at 8 and 10:15 p.m. Friday and Saturday in downtown Bloomington's busiest wellness center, Laugh Comedy Club.
Being The Ladies Man — Afro-crowned sex therapist Leon Phelps — it helps if you're more ladies than man.
And if somewhere along the way you can brandish a bottle of Courvoisier — Leon's oft-referenced liquid aphrodisiac of choice — so much the better.
But whatever the gender, the man behind Leon, Dr. Tim Meadows, would like to not only see you, but also find out more about you.
"Most people who come to see me don't really know me," figures Meadows, who once held the record as "Saturday Night Live's" longest-running cast member — a 10-season stand, begun in 1991 and lasting through 2000 (the record was broken in 2005 by Darrell Hammond, who was on board 14 years, from 1995 through 2009).
"I have no personal life for people to know about because I'm not a big enough celebrity to be seen in the press all the time. Only comedy fans are aware of who I am," goes the diagnosis.
Within that universe, Meadows has found his mileage may vary, per the demographic at hand.
"Older people know me from 'Saturday Night Live,' mainly as the Ladies Man," he says, reminding us that tempus does indeed fugit — 13 seasons of "SNL" have come and gone since his exodus (his association has continued unabated, however; see accompanying story for the proof).
"Some younger people know me from 'Mean Girls'," he observes, referencing the 2004 box office smash concocted by his "SNL" colleague Tina Fey and featuring him as school principal Ron Duvall, a role reprised two years ago in its sequel, "Mean Girls 2."
"The very young kids know me from 'The Even Stevens Movie' (a popular Disney Channel movie) or 'Aliens in the Attic' (a family box office hit from three summers ago)."
A lot of his mainstream viewer identification, however, comes from his extensive post-"SNL" series work, the biggest among them being TBS' "The Bill Engvall Show," where he played an Engvall crony named Paul Defrayne, owner of a successful hair transplant practice.